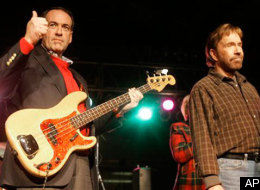 Photo from Huffington Post
I tried several times (unsuccessfully, obviously) to insert a Daffy Duck audio file into this post, expressing my displeasure with this story. It was his infamous, "All right, enough is enough. This is the final, the very, very
last
straw!" I think that spells it out. In a smarter America, this would be the very end of the Huckabee campaign.
[Excerpt]
Huck: We Need To Amend The Constitution, Bring It In Line With God
At a Michigan campaign event last night, Mike Huckabee gave an interesting reason for why he wants to amend the Constitution to ban both abortion and gay marriage: Otherwise, the Constitution would be in conflict with God. . .
Read the rest at: TPM Muckraker