They just keep doing this, and then get all defensive when someone suspects, "
this is because the president is a black guy."
Seriously, this is the umpteenth version of these faux outrages. And by that, I don't mean that the outrage isn't real, it's that the outrage is
stupid.
Right Wing World was in a tizzy when President Obama had his feet on his desk. They went bonkers because he didn't wear a suit
outrage
to the right, and each outrage was--as far as I'm concerned--just a cover for calling the president "uppity."
The awful offense, from TPM.
jacket one time in the Oval Office, or didn't wear a tie. Or wore a tan suit. Or didn't hold his own umbrella. Each of these things was an
The problem, of course, is that in each of these non-troversies, a Google image search can find countless examples of other presidents--often GOP presidents--doing the same thing. And that's not even getting to the fact that civilians aren't
supposed
to salute. Chalk up that odd tradition to The Gipper.
[Excerpt]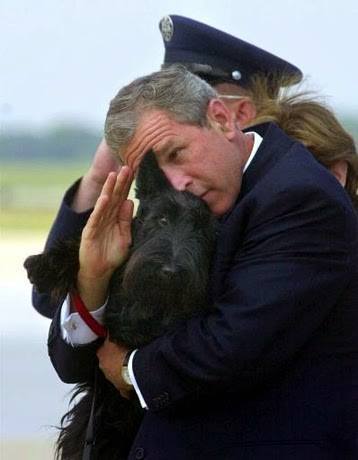 The inevitable
counterpoint.
Conservative Media Freaks Out Over Obama's 'Latte Salute'
President Obama disembarked from Marine One on Tuesday and saluted two Marines with a paper cup in his hand. For conservative talking heads the salute, which was captured in a video that the White House posted to its Instagram account, was proof positive of Obama's disregard for the military, ignorance of protocol, and general disrespect for the uniform. . .
Read more at: Talking Points Memo