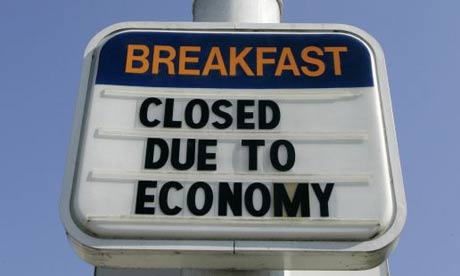 Photo from source, Guardian UK
When things are not going so well in America, it is a sticky issue to say so. The Limbaughs and Hannitys of the world tend to call any criticism of America, its President, or its foreign policy as completely out of bounds. You must hold up your We're Number 1! foam finger at all times if you are a true patriot! You will stand up, sing the national pledge of allegiance anthem, hand over heart, other hand saluting, flag pin not optional. Anything less, and you are an "America Hater."
So sometimes it is illustrative to see what the foreign press--who are not cowed by such sentiments--has to say about us.
[Excerpt]
US has not felt this bad since Watergate
Collapsing house prices across the United States have made Americans more pessimistic about the year to come than at any time since the height of the Watergate scandal and the first postwar oil price shock in the early 1970s, it was revealed yesterday.

Adding to fears that the world's biggest economy is falling deeper into recession, two reports showed an acceleration in the decline in house prices and an unexpectedly sharp fall in consumer confidence. . .