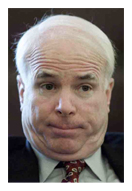 Photo from source, Huffington Post
Whoa! Sure, it's wild speculation, but we're getting used to wild cards in this race, aren't we? Now, I'm not a big believer in this theory, but you have to wonder; if John McCain did drop out, would the nomination automatically go to the second-place finisher? Or would "the powers that be" pick somebody from left field?
In what would surely be a political "Hail Mary" pass, the Republicans would score major press, and take away any buzz Barack Obama might be getting at the time. But what a roll of the dice!
[Excerpt]
When the Republicans choose their candidate on September 4th, there is a very real chance that they could throw the election into an unexpected chaos as they pull a genuine September Surprise.

I think there is every reason to believe John McCain won't be the nominee. Ok, let me say that again. McCain will not be the Republican candidate in November.
Here's how it could happen. . .