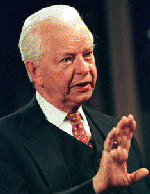 Photo from source, Think Progress
It is ironic that two of the longest serving Democratic Senators were both in the hospital on the same day. OK, maybe not ironic (Alannis Morrisette has wrecked me). Edward Kennedy was in for brain surgery for a malignant tumor, and Byrd apparently for a fever, which can be bad for a 90-year-old. I've never been much of a fan of either man, though I wish them both well. And the fact that they are both perpetual punching-bags of the right (Sean Hannity has idiotic nicknames for both), puts me in their camp by default. Get well, guys.
[Excerpt]
. . .Byrd, who is the longest-serving senator in history, voted during a 5:30 p.m. roll call Monday, then went home. Jacobs says that less than an hour later the senator began to feel ill. He was found to have a fever, and at his doctor's request he was taken to a nearby hospital. . .