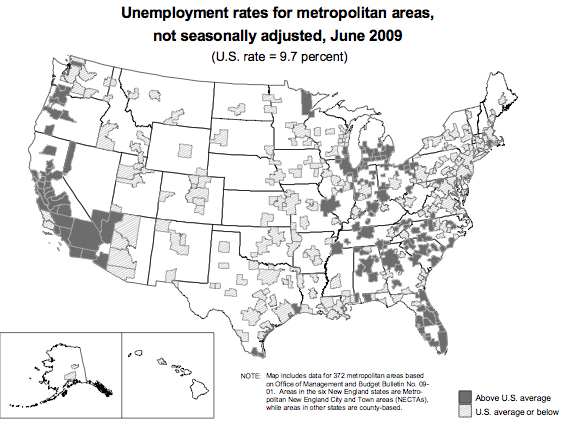 Image from source, HuffingtonPost
Clark County is the most populous county here in Nevada, and contains our largest cities, Las Vegas, North Las Vegas and Henderson. And the whole danged county is shaded in on this unemployment map of the country (bottom tip of state). That's pretty much what it looked like in 2004 on the electoral map, when pretty much the rest of the state voted for W.
Anyway, I'm not all that surprised. Even at a job I'v had for 12 years, things are sort of rocky, with reduced hours--something that isn't even depicted on this map. It used to be that Las Vegas was recession-proof. Not anymore.
[Excerpt]
Unemployment In June: The Worst-Hit Cities (MAP)
Unemployment rates climbed in all U.S. metropolitan areas from last June to this June, the government announced on Wednesday. Some of the jumps were dramatic. And the unemployment rate in 18 areas now surpasses 15 percent. Most of the hardest hit metro areas are in California and Michigan. . .