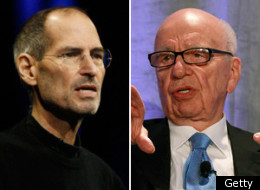 Jobs throws Murdoch on the barbie.
Image from source, Huffington Post
As the first bits of the new Steve Jobs biography leaked out, right-wing world was positively
giddy
about what Jobs thought of President Obama and his policies. Ostensibly liberal, Jobs still was a mogul. One who has his beloved products made in China, for instance. Well, Rush Limbaugh, Sean Hannity and countless others were
gushing
over these details. Hannity gave every few words that annoying uptalking thing that he does. All of this despite the fact that Jobs wanted to help run Obama's 2012 re-election campaign.
Something tells me they're not so thrilled with this. . .
[Excerpt]
Steve Jobs: Fox News 'A Destructive Force In Our Society'
. . ."You're blowing it with Fox News," Jobs told him over dinner. "The axis today is not liberal and conservative, the axis is constructive-destructive, and you've cast your lot with the destructive people. Fox has become an incredibly destructive force in our society. You can be better, and this is going to be your legacy if you're not careful." Jobs said he thought Murdoch did not really like how far Fox had gone. "Rupert's a builder, not a tearer-downer," he said. "I've had some meetings with James, and I think he agrees with me. I can just tell.". . .


Read more at: Huffington Post