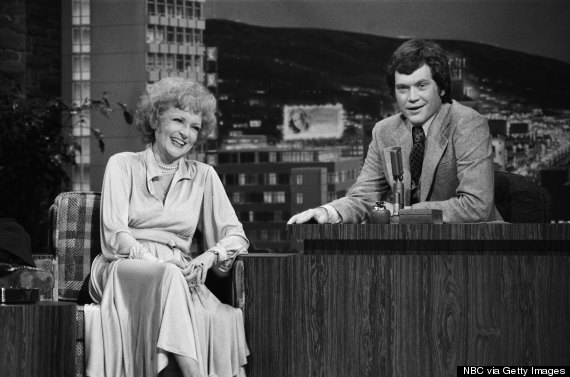 Dave with Betty White, coincidentally, also a Mary
Tyler Moore costar. Image from source, Huffington Post.
Back in the 1970s, America's Sweetheart, Mary Tyler Moore had a critically-acclaimed and massively popular sitcom, called (oddly enough)
The Mary Tyler Moore Show.
Then she quit, and the show ended while on top. But Mary wasn't tired of TV, she just wanted to do a variety show, and so she did, called (oddly enough)
Mary.
This show was neither critically-acclaimed, nor massively popular. But it had one very important ingredient: repertory player David Letterman.
A couple years later, somebody realized that Dave was a talented and funny guy. There was a big media campaign to get us to watch the daytime series,
The David Letterman Show
(where do they get these names?). It tanked,
fast.
But somehow, the schmucks behind the scenes at NBC realized they had something on their hands, and they created
Late Night with David Letterman
, to follow
The Tonight Show starring Johnny Carson.
It was a cult hit right off the bat, and became a late night institution.
I am old enough to remember all of the above. Though I don't think I caught much of
Mary
or Dave's original daytime show, I was enough of a pop culture sponge to have seen both, and was up on the stories behind them. And I watched
Late Night
from episode one. I followed Dave to CBS when NBC snubbed him for Jay Leno. And though I long ago became a Jon Stewart and Stephen Colbert, I still often catch Dave on Fridays, on
Daily Show/Colbert Report
rerun weeks, and whenever he has Rachel Maddow on! So, congratulations to Dave Letterman on three-plus very successful decades on late night TV. I'll miss him when he goes, even if I don't always watch.
[Excerpt]
David Letterman Retiring After 33 Years As Late Night Host
David Letterman is retiring in 2015 after 33 years as a late night host. Letterman announced the news during a taping of Thursday's episode of "Late Show." He called CBS president Leslie Moonves before the program, "And I said 'Leslie, it's been great, you've been great, and the network has been great, but I'm retiring.'" The late night host explained that "Moonves, he and I have had a relationship for years and years and years, and we have had this conversation in the past, and we agreed that we would work together on this circumstance and the timing of this circumstance. . ."
Read more at: Huffington Post
And here is a video from
Mary
with the star singing "With a Little Luck" with her cast, including David Letterman, Swoozie Kurtz and David Letterman. It's pretty bad.