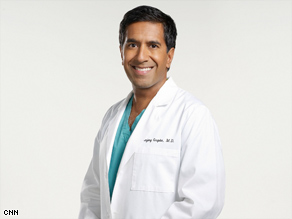 I'm not sure I understand why anyone thinks this is a bad choice. Who doesn't like Sanjay Gupta? And the Surgeon General should be likable, respected, knowledgeable about medical issues, and savvy in regard to media. Gupta's got all of that, particularly the last. I think the choice is inspired. Now if it had been Dr. Phil or Dr. Laura, I'd understand the controversy. . .
[Excerpt]
Sources: CNN's Gupta approached for surgeon general
The Obama transition team approached Dr. Sanjay Gupta, CNN's chief medical correspondent, about becoming U.S. surgeon general, according to sources inside the transition and at CNN. . .