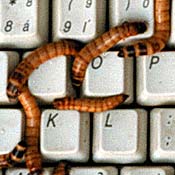 Image from PublicRadio.org
Have you ever gotten one of those emails from a well-meaning friend that says something like:
"I usually do NOT send out Virus Alerts because so many are Hoaxes This One appears to be True and its best to be safe!"
They often follow with "I checked it out on Snopes, and it's for real!" They'll say that Microsoft calls it the worst attack ever, and that it will melt your hard drive, turn your monitor into an amber-on-black terminal, and delete all of your porn. Well, maybe not, but you get the idea.
They're almost always either hoaxes, or are blown all out of proportion. But this story--which reads very much like one of those emails--appears to actually be legit. So, update your Windows Update downloads, stay away from Internet Explorer, or get a Mac. And I say this as a Mac-phobe!
[Excerpt]
Worm Infects Millions of Computers Worldwide
A new digital plague has hit the Internet, infecting millions of personal and business computers in what seems to be the first step of a multistage attack. The world's leading computer security experts do not yet know who programmed the infection, or what the next stage will be. . .