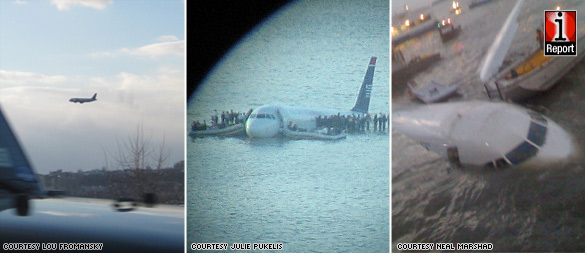 Being married to an airline employee, I've always taken the phrase "water landing" to be an oxymoron. That's a crash. Because usually, they don't work very well. But the pilot of a US Airways jet pulled it off, and did so with no deaths and only one person with serious injuries (two broken legs). It's flat-out amazing, and turns a horror story into a good news one.
I'm presently watching The Rachel Maddow Show's coverage of the event, which is fascinating. And--since everybody is for the most part OK--I just have to mention that the expert that Rachel is talking to is Captain Ober. I wonder how many "Turkish prison" jokes he gets?
[Excerpt]
Passengers scrambled to get off a sinking jetliner after it went down Thursday in New York's Hudson River with 155 people on board. The US Airways jet apparently experienced a bird strike while en route to Charlotte. All of the passengers survived. "I think that's miraculous," a passenger told CNN. . .