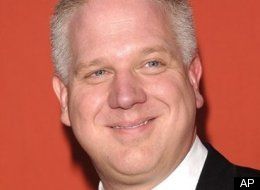 Image from source, Huffington Post
I've never been much for boycotts. Oh, I'll personally avoid buying certain products, or discourage others from doing so if something really bugs me, but it's more of a personal protest than an organized effort. I think usually, if something is boycotted, it attracts as many people as it turns away. Think The Last Temptation of Christ or even Married. . .With Children.
But it also doesn't make me particularly sad to see Glenn Beck's FOX "News" program having trouble retaining advertisers. As much as anyone, Beck is responsible for spreading false information, and riling up an already unstable group of people. Beck may himself be a nutball, but even he has to know that a large chunk of his audience is more than half a bubble off.
[Excerpt]
Walmart, CVS, Best Buy, GMAC Among 8 Major Companies To Pull Ads From Glenn Beck Show
Walmart, Best Buy, CVS, and GMAC are among eight major advertisers that have confirmed pulling their advertising from Fox News' "Glenn Beck" program in light of his comments that President Obama is a racist.

The advertisers did not pull their spots from Fox News, but rather requested that their ads do not air during Beck's 5PM program. . .