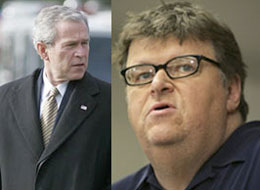 Now I've heard everything.
[Excerpt]
BUSHIES WANT TO HEAR FROM MOORE ON CUBA TRIP

This just in from "The Tonight Show with Jay Leno," where Michael Moore is a guest this evening:

The Bush administration has subpoenaed Moore over his trip to Cuba with 9/11 rescue workers, which he included in his new documentary film, "Sicko." The press release is in the link below.
- Ken Bazinet
MICHAEL MOORE ANNOUNCES THAT HE'S BEEN SUBPOENAED BY THE BUSH ADMINISTRATION ON "THE TONIGHT SHOW WITH JAY LENO"

BURBANK-July 26, 2007 – Oscar-winning documentary filmmaker Michael Moore announced that the Bush Administration has subpoenaed him in the wake of his recent trip to Cuba on the July 26 episode of NBC's "The Tonight Show with Jay Leno" (Monday-Friday, 11:35 p.m. - 12:37 a.m. ET). "I haven't even told my own family yet." Moore began, "I was just informed when I was back there with Jay that the Bush administration has now issued a subpoena for me."
This comment made me laugh:
Don't worry folks, I'm going to claim executive privilege and refuse to show up.
Posted by: michael moore
July 27, 2007 12:43 PM