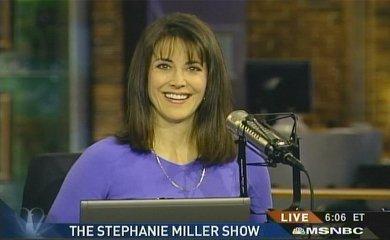 Photo from
StephanieMiller.com
I've talked about Stephanie Miller before, but I don't think she gets nearly enough exposure, so I want to show you why I think she's so great. Months ago, she appeared on
Hannity and Colmes
on FOX "News," and she bested Sean Hannity in a way that few do. THIS is how you combat this idiot. If you can't find Stephanie's show on your radio, try
KTLK.com
. She's on from 6:00 - 9:00 Pacific/9:00 - 12:00 Eastern.
I couldn't find an embeddable video, but I did find a transcript. Read along, and see how everyone should treat bullyboy Hannity when interviewed.
[Excerpt]
SEAN HANNITY, CO-HOST: Hey, Stephanie Miller, my old friend. Hello, Stephanie.
MILLER: Hi, Sean, you big hunk of conservative stud meat.
HANNITY: Oh, thank you very much. I understand you say that quite often. I take that as a compliment from you. All right. Now, you know what it is?
MILLER: You're really, really wrong about everything, and that's why God made you pretty.
HANNITY: OK, thank you, Stephanie. I could say the same about you.
Now, let me — let's talk about Bush derangement syndrome, because you're actually suffering from it, as well. You know what? First of all, Sean Penn, when he could string two sentences together, doesn't obviously understand fascism.
And here's the facts, Stephanie. Not only are you guys, as Don Rumsfeld said, morally confused, you are weak as a party. You are wrong on the issues of our day involving terror. You are confused, and you have a pre-9/11 mentality. It's just that simple.
MILLER: Thank God you called me pretty first. You know what — Sean...
HANNITY: Thank God — thank God the country is being defended despite you guys.
MILLER: I didn't hear anything after you said that I'm pretty. But you know, here's the thing. You might want to read something. There's been a piece written called "The 14 characteristics of Fascism". Well, a lot of people agree are indeed what they are. If you go down the list...
The video might capture it better, and you can view it
here
. You can see from his reactions that he's totally thrown. One day I hope to figure out how to embed these types of videos. They don't make it easy.