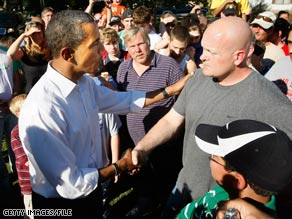 Getting a bit of a late start tonight. Chores, you know. Anyway, I'm glad I came in to blog, because this one is a doozy. Remember "Joe the Plumber," the lummox who really wasn't a plumber? The guy who, on the campaign trail, asked a question of Barack Obama that was loaded with inaccuracies? The guy who John McCain and Sarah Palin then inexplicably used at their campaign stops?
Well, apparently, "Joe" wants to extend his 15 minutes of fame a little bit. He's gonna be a war correspondent! Well, sure, why not. He's already been rumored to have gotten an agent, and to be pursuing a country & western recording contract. Several other attempts at fame are also in that mix somewhere, but they've thankfully left my mind. So why not journalist?
Right wingers are expressing similar sentiments without the sarcasm.
They love the guy
, nearly as much as Sarah Palin. Apparently they don't have the good sense to be
embarrassed
about these people. Of course, they still love George W. Bush too, so I guess it stands to reason.
[Excerpt]
Joe Wurzelbacher: Plumber. Campaign celebrity. Foreign correspondent?

'Joe the Plumber' is headed overseas to try his hand at covering the conflict in Gaza, Wurzelbacher's publicist Thomas Tabback confirmed to CNN Wednesday. . .