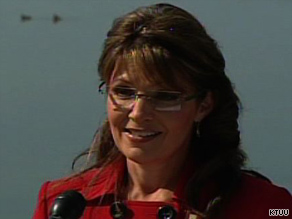 There is one thing you can say about Sarah Palin. She's unpredictable. Well, at least the news about her is. The fact that she has announced her resignation as Alaska Governor on a holiday Friday shows a little more savvy than you'd expect from her, considering she is often politically tone-deaf. And it raises more questions than it answers.
The general story is probably going to say that the resignation is in preparation for a 2012 run for President. But it seems more than a little too early, and on the heels of silly sideshow faux outrages like her battle with late night comic David Letterman. Anyone want to lay odds that there is much more going on here than we're being told?
I'm not sure which would be more entertaining, though, an attempt to take on Barack Obama, or whatever sordid story she's hoping to duck by leaving the Governorship. Time will tell.
[Excerpt]
Palin stepping down this month

Gov. Sarah Palin announced Friday that she will step down as Alaska's chief executive by the end of the month. She will not seek election to a second gubernatorial term in 2010. . .