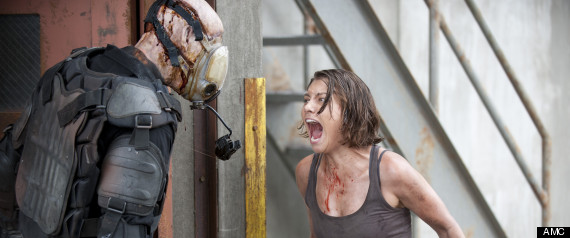 You'd scream too! Image from source, HuffPo
I'm a diehard loyalist when it comes to my favorite TV shows. If I
really
like a show, I stick with it, through thick and thin. We're talking
Dynasty
and both versions of
Melrose Place
from start to finish! I've chronicled several of my favorite shows here on the blog, from
Terminator: The Sarah Connor Chronicles, Dollhouse, Better Off Ted, FlashForward, V
,
Swingtown
and others. The common thread is that those shows all got early cancellations.
The "Greenlee Curse" is finally broken! Not only did
The Walking Dead
start out as a hit, it has only gotten bigger and more popular. Last season, there started to be reason to worry. Much like the first presidential debate two weeks ago, the reviews weren't very good, and the whining started. It snowballed in the blogosphere, a perception of "bad" growing much larger than any actual real problem with the show. I'll concede in season two that a) they hunted for the girl in the woods for
far
too long; b) they cowtowed to Hershel Greene for too long; c) Lori needs to die; and d) Carl needs to stay where they tell him to.
But otherwise? I loved every episode. As in
True Blood,
some episodes are better than others, but all of the episodes were worth watching. For every fan who complained that it was too "talky," and that they need more
zombies,
I say shut the hell up. If every episode is top-heavy with zombie slaughtering gore, it'll get boring. Hell I just watched a decapitation on
Hawaii Five-0--
something that would have been unthinkable on prime time TV a dozen years ago--and didn't even blink. Calm down, relax and enjoy the show. Yes, they had a few pacing problems last season, but the way these guys bitch, I wonder why they even watch it! I'm just happy that they've hit their stride again, and are being rewarded with
stellar
ratings numbers. No more
Greenlee Curse!
[Excerpt]
'The Walking Dead' Season 3 Ratings: Premiere Breaks Records
"The Walking Dead" continues to shatter ratings records. The Season 3 premiere of AMC's popular drama had 10.9 million viewers at 9 p.m. and 15.2 million when factoring in the encore. It was up 50 percent compared to the Season 2 premiere. . .The premiere is also the biggest basic cable telecast ever amongst total viewers. . .
Read more at: Huffington Post