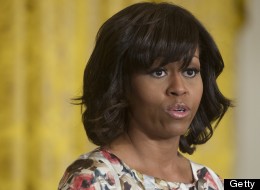 Image from source, Huffington Post
Okay, as a gay person, I don't generally feel the need to opine on each and every activist that does something notable, or notorious. I'm only responsible for myself after all. But as a long-time blogger with a (sometimes) accent on gay rights issues, I just wanted to highlight this little performance. And say that I really dislike this sort of "protest," and think it does far more harm than good.
First of all, the Obamas have been vocal supporters of gay rights, far and away beyond any other First Family, even the Clintons, who have DOMA and DADT to live down. Not perfect, no. In fact, very frustrating at times, but we've made more strides as a community arguably, than during any other administration. And heckling Michelle Obama at an unrelated event like this seems to me disrespectful, out of line, and wholly inappropriate. I can't imagine that GetEQUAL's ENDA agenda (heh) was helped at all, and was in fact besmirched. I'm sure it made hardcore conservatives happy, but what in the world does
that
accomplish?
Badly done.
[Excerpt]
Michelle Obama DNC Fundraiser Speech Interrupted By LGBT Protester
First lady Michelle Obama's speech Tuesday evening at a private Democratic National Committee fundraiser was interrupted by a protester, who demanded equality for gays and lesbians. . .
Read more at: Huffington Post