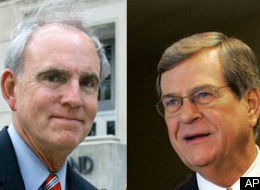 Photo from source, Huffington Post
Prior to Senator Trent Lott's resignation announcement last week, I don't believe I'd ever typed his name. Suddenly there are stories aplenty on Lott (and humorously Lott's Wife, or rather her brother). Most are speculation on why he resigned so suddenly after just getting re-elected.
Here is yet another possible reason.
[Excerpt]
Prominent Mississippi trial attorney Richard "Dickie" Scruggs, the brother-in-law of outgoing GOP Sen. Trent Lott, was indicted by a federal grand jury Wednesday on charges that he and four other men tried to bribe a Mississippi state court judge. . .