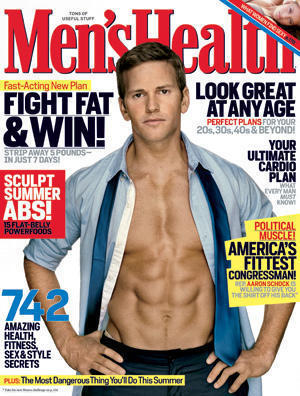 Nice shirt. What else is in the closet?
Image from HuffPo
Many months ago, I posted a clip from
The Colbert Report
, in which Stephen Colbert interviewed Rep. Aaron Schock (R-IL). Schock has had a few infamous beefcake photos circulating, and in that post, I posted one. Little did I know, it would provide a constant stream of visitors to my blog. Most days, it actually
leads
the pack in "most read" pages besides the front page. Whenever I get a spike in visits, it's usually because Schock has been in the news for something. For some reason, Google Images lists me high in the list whenever someone is looking for that beefcake!
So when I got a spike of several hundred visits on Monday,
I pretty much
knew
Schock was up to something. Sure enough, he's posed shirtless again, this time for
Men's Health
magazine. And while Colbert only hinted at possible skeletons in Schock's closet, the Twitters are abuzz with innuendo today. It will be interesting to see if this is a first step in a much different story. Time will tell.
[Excerpt]
Aaron Schock Shows Off Six Pack On Men's Health Cover
HuffPost's original "Hottest Freshman" Aaron Schock went unbuttoned for the most recent issue of Men's Health to promote his "Fit for Summer, Fit for Life Challenge." The ripped republican representative showed off his six-pack abs in order to encourage readers to drop weight -- and their risks of heart disease, diabetes and strokes. . .
Read more (with video!) at: Huffington Post
(And I'll cop to a shameful amount of innuendo here. I don't
know
anything, you understand. I'm just telling you what somebody told me. . .)