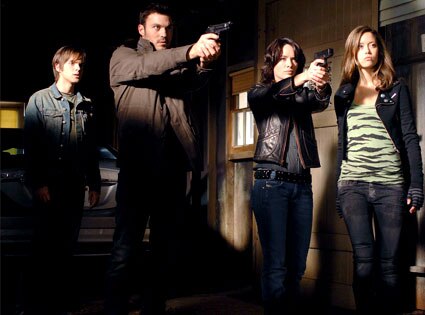 Photo from source, E! Online
Several times I've been burned by the TV networks, most often by FOX for prematurely cancelling a show that I was into. Off the top of my head, VR-5, John Doe, Strange Luck, Firefly, Something is Out There, Twin Peaks, V. . . Yes, some of those shows are moldy-oldies, but they all have a common theme: they are science-fiction and/or off-beat. So unless the show has something that really draws me in (Lost, Enterprise) I ignore the show until I see if it's going to last.
Well,
Terminator: The Sarah Connor Chronicles
is one of those shows I simply had to watch. I've already commented on the program a few times (
here
,
here
,
here
and
here
), but all along my biggest concern was that the show would be cancelled. Especially now that the season has wrapped up, and I'm totally in love with it. The following excerpt is from an article that lifted my spirits a little bit. It's not definitive, but it's good news. Remember, the future is not set! There's no fate but what we make!
Sign a petition to renew the show here:
Renew FOX's "Terminator: The Sarah Connor Chronicles"
[Excerpt]
Terminator: Barring Any Vats of Liquid Metal...It'll Be Bahk
Many of you have been asking about the fate of Terminator: The Sarah Connor Chronicles, so I'm happy to report that barring any apocalyptic shifts at the Fox network, Terminator is very likely to return in the fall.

Now, the official word from the network is, "No word yet regarding season two. Fox usually announces returning shows in May around upfronts." However, in addition to some scuttlebutt that came our way yesterday saying production is set to resume in mid to late June, star Thomas Dekker told me at last night's American Idol party he was feeling pretty good and is "pretty sure" the new season will happen. . .