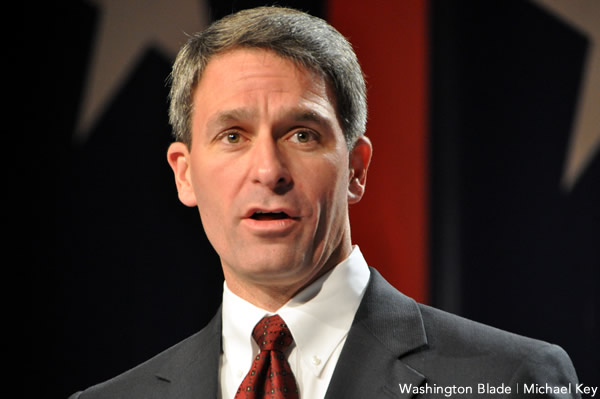 He's sure got a purty mouth. . .Image from source.
Virginia Attorney General Ken Cuccinelli--courting a mystery constituency of voters who don't like any kind of sex beyond
married missionary
-style--was for some reason trying to resurrect Virginia's sodomy law. "Crimes against nature" they called it, apparently knowing
nothing
of nature. So, Virginia can keep their "Virginia is for lovers" slogan. But who knows if The Cooch can keep his chances of running successfully for Governor?
[Excerpt]

Cuccinelli denied sodomy ruling rehearing
The Fourth Circuit U.S. Court of Appeals in Richmond issued an order on Monday denying a petition by Virginia Attorney General Ken Cuccinelli asking the full 15-judge court to reconsider a decision by a three-judge panel last month that overturned the state's sodomy law.
In an action that surprised some court observers, the order says none of the court's judges requested a poll among themselves to determine which, if any of them, favored Cuccinelli's request for an en banc rehearing of the sodomy case by the court's 15 active judges and one senior judge. . .
Read more at: Washington Blade