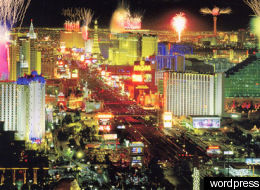 Since I'm blogging from Las Vegas, I suppose this story is very relevant to my blog. Personally, I'm not 100% behind a Hillary Clinton candidacy. I'm still pulling for John Edwards, probably against all odds. But the casinos like Hillary, and unless I'm mistaken, they generally go for the Republicans.
One thing that is wrong with this story is the bit about the number of casinos Harrah's operates. They actually own practically half of the Las Vegas strip, in addition to the
casinos they operate
nation-wide. I learned long ago, that if you know something about a news story, you can almost always find a flaw in the way it's reported.
[Excerpt]
On the eve of the crucial Nevada Democratic Presidential Debate, set for Thursday night, candidate Hillary Clinton has racked up the public endorsement of some of the state's most influential gambling industry executives and advocates.

The Clinton campaign has unveiled the formation of the Nevada Business Leadership Council led by Jan Jones, a former Las Vegas Mayor and a current top executive of and lobbyist for national gambling mega-corporation Harrah's Entertainment.

Harrah's operates more than two dozen casinos nationwide, including the landmark Rio in Las Vegas. . .