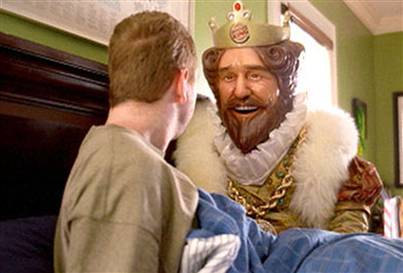 Wal-Mart gets a bad rap for squeezing every nickel out of its suppliers, a policy that has driven most of their suppliers to China in order to compete. Now another business giant, Burger King, employs a similar tactic with its produce handlers. I'll bet that creepy, plastic-headed King is behind this somehow. . .
[Excerpt]
Burger King as Scrooge
The Nation
-- Farm workers who toil to pick tomatoes for Burger King's sandwiches earn 40 to 50 cents for every 32-pound bucket of tomatoes they pick, a rate that has not risen significantly in nearly 30 years. [snip]

But instead of joining other fast-food chains who agreed in 2005 to pay an extra penny per pound for its tomatoes, [snip] this Christmas Burger King is working to undermine agreements that have been made with the
Coalition for Immokalee Workers
(CIW). As a result, already
impoverished tomato pickers
in Florida are facing the prospect of losing the first significant raise some of them have seen in nearly 30 years as tomato growers have been encouraged and emboldened to cancel deals already struck with Taco Bell and McDonald's. . .