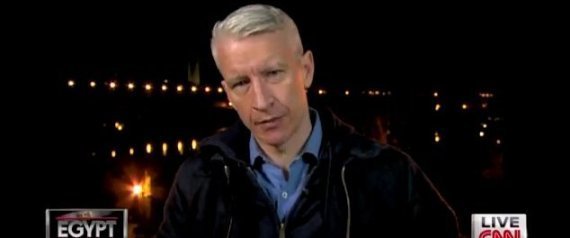 Image from Huffington Post
Wednesday in Egypt, many journalists and news crews covering the potentially revolutionary riots, were sought out and attacked. Included in these attacks were NBC's Richard Engel (though he was not injured) and CNN's Anderson Cooper (who was repeatedly punched in the head). These attacks apparently came from
pro-
Egyptian government counterprotesters, believed to be paid by the government itself.
[Excerpt]
Anderson Cooper Attacked, Punched In The Head By Pro-Mubarak Mob In Egypt
Anderson Cooper and his crew were attacked by supporters of Hosni Mubarak in Cairo on Wednesday. CNN's Steve Brusk tweeted that Cooper was punched in the head ten times. . .
Read more at: Huffington Post