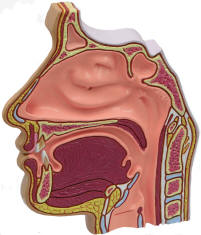 Image from Anatomy-
Resources.com
A little while ago, I posted a piece on my life-long ability to sneeze with nearly 100% frequency when going out into the sun. It's called a
photic sneeze
, and the post attracted quite a few readers and reader comments. This got me to thinking. I mean, I was able to find out about the photic sneeze on Wikipedia. But I have another seemingly from birth abnormality, and I can't seem to find out anything about it. Maybe a reader might know about this.
I can't blow my nose. Well, not like a normal person, anyway. If I'm in a steamy shower, I can blow my nose fairly normally. But if I'm not in the shower, anything beyond the gentlest outward pressure "pops" my ears. When I was a child, this would cause much consternation from my mother, who just thought I didn't like to or didn't know how to blow my nose. She'd be rootin' around in my nose with a Q-Tip, trying to unclog my unblown nose. Then she'd hold a tissue to my face, and tell me to blow. . .
BLOW!
She'd get angry. One time, to please her, I blew, really hard. . .and blew out my eardrums. Literally. Blood and everything.
Luckily, I healed up, and my hearing seems to be unaffected as an adult. But I still can't blow my nose. And a modified version of mom's Q-Tip procedure is necessary (that, or a good honkin' in the shower). On top of this indignity, I'm rather klutzy, something I've always guessed had something to do with my messed up ears, and sense of balance. Also, in times of changing pressure (such as on an airplane), the pressure can at times become almost unbearable. And the negative affect on my hearing while flying seems to be more pronounced and longer-lasting than it does for other people.
So, let's add this up. I am a photic sneezer. I can't blow my nose. I was born with a lazy eye, so despite corrective surgery, I don't have normal stereoscopic vision (can't see 3D movies or stills). And, oh yeah, I'm gay. That's a boatload of atypical inborn traits, wouldn't you say? It's a good thing I've got a friend doing some ancestry research on my family. I'm beginning to suspect that Mom and Dad were related!