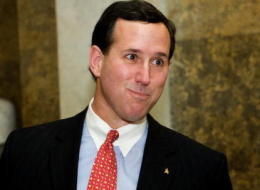 Man-on-Dog Santorum, from HuffPo
Sometimes karma works. Rick Santorum, one of the smarmiest and ickiest of a list of once-powerful former Republican elected officials wants to run for President. This despite an embarrassing loss in his most recent election. But the political flavor of the month is
extreme conservative,
or it seems to be. But I'm thinking that Ricky isn't
quite
crazy/stupid enough to outshine Sarah Palin, Michele Bachmann, or several others in the cartoonish 2012 lineup. Oh, he's batshit. He's just not
that
batshit. And he's got this little problem. This little, hilarious, richly deserved problem. . .
[Excerpt]
Santorum Google Searches Spike After He Speaks Out About His 'Google Problem'
Earlier today, we brought you word that would-be presidential candidate Rick Santorum had been sharing his feelings about his "Google problem" -- that is to say, his name has become strongly associated on Google with "the frothy mix of lube and fecal matter that is sometimes the byproduct of anal sex. . ."
Read more at: Huffington Post