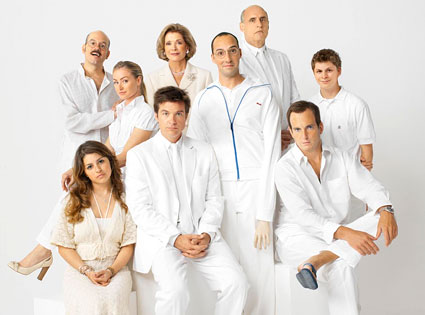 Arrested Development cast from E!
Last month, I took Netflix up on their "free month" promotion. The timing was right, what with a new internet-capable Blu-ray player for Christmas, and then the purchase of a mostly new home theater setup. Of course, the month came and went before I got the chance to cancel, and they got me for the first $7.99 month (and I mean a month down to the second, as it happens). Unfortunately,
much
of Netflix's service is restricted to their $9.99 "DVDs-by-mail" customers, which I couldn't see myself ever using. Plus, I mean let's get real, this stuff is all going to be online eventually, right? Anyway, what I
have
found I enjoy is some of the TV series collections they have.
Two of those series starred Portia di Rossi, Ellen DeGeneres' beautiful and talented wife. The first,
Better Off Ted
was a badly titled but brilliant workplace sitcom. The second,
Arrested Development
is another brilliant but cancelled sitcom masterpiece, starring Jason Bateman, Wil Arnett, Jessica Walter, Jeffrey Tambor and David Cross. It centered on the Enron-like fall of a family-run business, and all of the dysfunctional family members behind it. Of the two series,
Arrested
outshines
Ted,
but only because
Ted
got much fewer episodes in the can. If you've got Netflix, and a few weekends to burn, you could do no better for entertainment than these two shows. But watch out for Mrs. di Rossi-DeGeneres, Hollywood executives. She could be the new
Ted McGinley
of series cancellation, if Summer Glau hasn't taken that title already!
[Continued below]
Arrested Development Season 3 Bloopers (Not Safe for Work)
All of that is a lead up to one of the recurring motifs in my life: pointless serendipity. At least four or five times a week, an odd word or topic will come up twice in the same day, hours or even
seconds
apart. For instance, I may be reading the word "
sanctimonious
" only to have that word be uttered seconds later on TV. Or, I may be discussing Isabel Sanford one evening, only to find out she died hours later (watch your ass, Portia!). This time, it was
Arrested Development
. I'd just finished watching the season-ender. I mean
less than a half hour ago.
I came into my office, turned on my computer, and found this on my facebook page, near the top:
Was 'Arrested Development' A Remake of a 70s Sitcom?
Image from MoviePatron
And then I went to a search page and found this a story about Charlize Theron, a prominent guest in the last season. The story even featured Theron's "
Monster
" movie makeup, a shot that was used in
Arrested Development.
This is all very weird, but nothing new. I just had to document it for once.