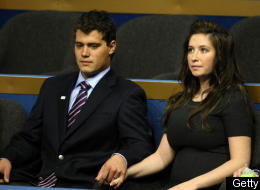 Photo from source, Huffington Post
I wasn't going to do a post on the
Bristol Palin-Levi Johnston
breakup story. First, because the source was the
Star,
second because the delight I've taken in making fun of Sarah and
Taaahhhd
Palin has waned. Even after I saw that the story had been confirmed in the mainstream media by Levi Johnston himself, I thought,
nah.
Then, I happened upon a page on FreeRepublic, the far-right outpost of the blogosphere. Among the usual "blame the media" comments (remember, Sarah herself hauled those kids into the public eye), I found a gem. Oh, it's stupid, but I just had to share:
"But, the Johnson mother is allegedly a drug seller; the sister just came out and spilled it to the Star--- the Johnsons don't seem like a family that gives a hoot. My understanding is they are Democrats. . ."
Oh noes
!
Democrats!!!
Well then of course Ms. Palin should remain one of those "unmarried mothers" that Ann Coulter rants about, but with dispensation due to those horrible
Democrats!