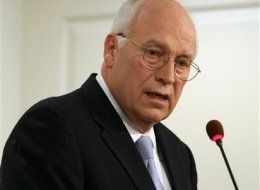 Image from source, Huffington Post
Hey, that might not be the actual quote contained in the story excerpted below, but that's what I took from it. I've used a lot of negative adjectives to describe Darth Cheney, so "loser" is not so bad really. I kind of like "lonely, paranoid, and frightened" too.
[Excerpt]
Wilkerson: Cheney "Lonely, Paranoid, Frightened"
The night after Colin Powell delivered his infamous argument to the United Nations justifying the invasion of Iraq, Lawrence Wilkerson, his chief of staff, sat down and wrote a letter of resignation. It was, said Wilkerson Friday, " the lowest point in my professional and my personal life."

He stuffed the letter in his desk drawer. And left it there. . .