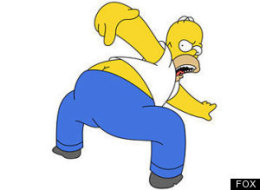 Image from source, Huffington Post
 Yes, I'm running two
HuffPo-
sourced articles in a row, but anyone who knows me knows that I couldn't possibly ignore this story. D'oh!
[Excerpt]
'Simpsons' Head: Fox Won't Let Us Show Homer's Butt
"The Simpsons" celebrated some good news Thursday, as the animated legend was renewed by Fox for an eye-popping 23rd season. While discussing the renewal with New York magazine, Al Jean, who runs the show, revealed an interesting tidbit about the standards department at Fox: they won't let "The Simpsons" show any of the character's bare behinds. . .
Read more at: Huffington Post