While I enjoy horror, slasher and moster movies of all types--good ones and bad ones--I have a personal favorite: zombies. I like 'em fast, I like 'em slow. I like the black and white starkness of George Romero's Night of the Living Dead, I like the technicolor goriness of his original follow-up, Dawn of the Dead. I like the spoofy non-sequels like Return of the Living Dead, and the more straight-ahead parody Shaun of the Dead. I like the 28 Days/Weeks/Months not-really-zombies. And right now, I'm delighted that Americans with taste are discovering zombies with The Walking Dead on AMC.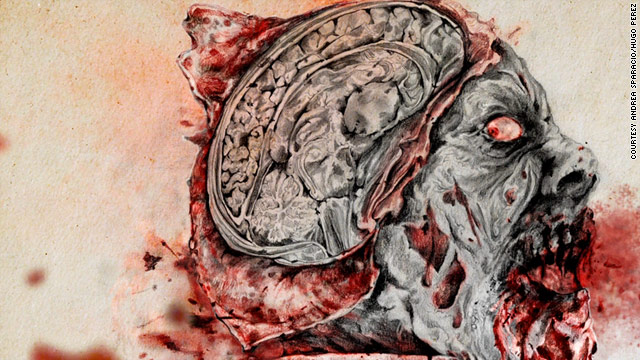 Image from source, CNN
A zombie apocolypse is probably the least likely dystopian future. But what does science have to say about it? Fortunately, my friend
Stupid Monkey Planet
finds out stuff like that for me. Thanks, Monkey!
[Excerpt]
Inside zombie brains: Sci-fi teaches science
An airborne virus is rapidly turning people into zombies. Two-thirds of humanity has been wiped out. Scientists desperately look for a cure, even as their own brains deteriorate and the disease robs them of what we consider life. . .
Read more at: CNN