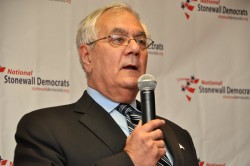 Rep. Barney Frank, recently legally
same sex married. Image from source.
I know, I know, "marriage equality" is the preferred phrase these days, but not everyone knows what it means. But the point is, same-sex marriage has leapfrogged from activists to Joe Biden to Barack Obama, and now looks poised to be a plank in the national Democratic Party platform. Which will make it very difficult for the Log Cabin Republicans and their scary spinoff GOProud in their efforts to get gay people to vote Republican.
[Excerpt]
Democratic platform draft includes marriage equality plank: sources
The Democratic Party platform drafting committee approved on Sunday language endorsing same-sex marriage in addition to other pro-LGBT positions as part of the Democratic Party platform, according to two sources familiar with the drafting process. . .
Read more at: Washington Blade