Images from source, Huffington Post
After running a blog for over five years, and its attendant Twitter and Facebook offshoots, I know how fickle readership could be. No offense to you, dear reader, but paying attention to the number of followers I have on each of these platforms can be very, very frustrating! People who use RSS readers are the most fickle, followed by Twitter followers. Both of those groups will dump me in a heartbeat. My Facebook friends have been a very
small
group, but so far very loyal. They mostly click "like" and then stick around.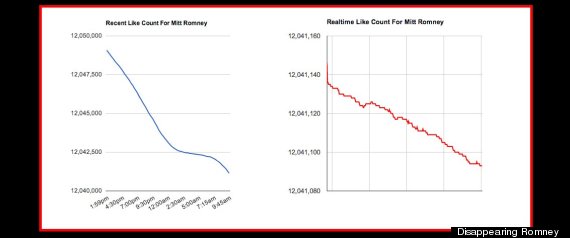 Mitt Romney isn't feeling the love. His Facebook page--not the campaign site, his regular one--is losing "friends" in real time. It's kind of fascinating to watch.
Just go there
, wait 15 seconds, and refresh. WHOOSH, there goes 15 friends! It's kind of sad, and I'm sure there's eventually going to be a floor to this. He's not gonna drop to zero. But won't it be fun to see how far it goes? Okay, so I'm not done with my schadenfreude. But I'm fascinated that people actually take the time to unfriend things. I've got stuff in my "likes" from my first day on Facebook.
[Excerpt]
'Disappearing Romney' Website Shows Candidate's Plunging Facebook Popularity
Mitt Romney is losing a lot of "friends" after his defeat in the presidential race last week.
Newly launched website "Disappearing Romney" tracks the onetime presidential hopeful's decline in popularity by providing graphs that illustrate his official Facebook Page's dramatic loss of "Likes. . ."
Read more at: Huffington Post