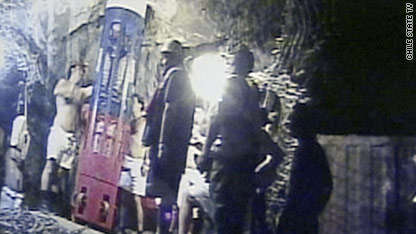 Image from source, CNN
I was lucky enough to catch the live footage of the first miner rescued from the Chilean mine collapse. Those guys have been underground for 69 days, and now are being slowly extracted, one by one, in a tiny shuttle 22"-wide. I'm crossing my fingers that they all get out okay. And the first guy is out! It's about time we got a happy ending somewhere, right?
[Excerpt]
First of 33 trapped miners reaches surface
Rescuers clap and cheer as the first miner to be rescued, Florencio Avalos, 31, leaves the capsule and steps onto the surface for the first time in about 68 days. After hugging several people, he is put on a stretcher and wheeled into a nearby triage center. . .
Read more here (updated frequently): CNN