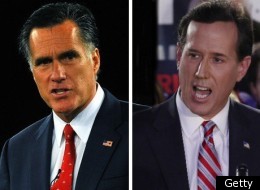 Mitt happens. And so, sometimes, does
Santorum. Image from HuffPo.
Huffington Post is billing this as a "shocking" story, which I find a bit bizarre. I mean, there was a miniscule margin.
Any
kind of recount could reverse the winning order. Just ask Norm Coleman or Al Franken. But I'm a little sad to see
Santorum
possibly chalk up a win. I know he will never be President, barring the biggest spell of stupid that America has ever seen. But he's just suck an
evil
fucker, dressed up as a pure, Godly moralist.
[Excerpt]
Iowa Caucus 2012 Results: Vote-Counter Says Mistake Gave Mitt Romney 20 Extra Votes
Former U.S. Sen. Rick Santorum said he was "not surprised to hear" that the vote total for ex-Massachusetts Gov. Mitt Romney may have been overcounted by 20 in the final tally of Iowa caucus-goers, but both he and his campaign were declining to weigh in on the story that broke Thursday night. . .
Read more at: Huffington Post