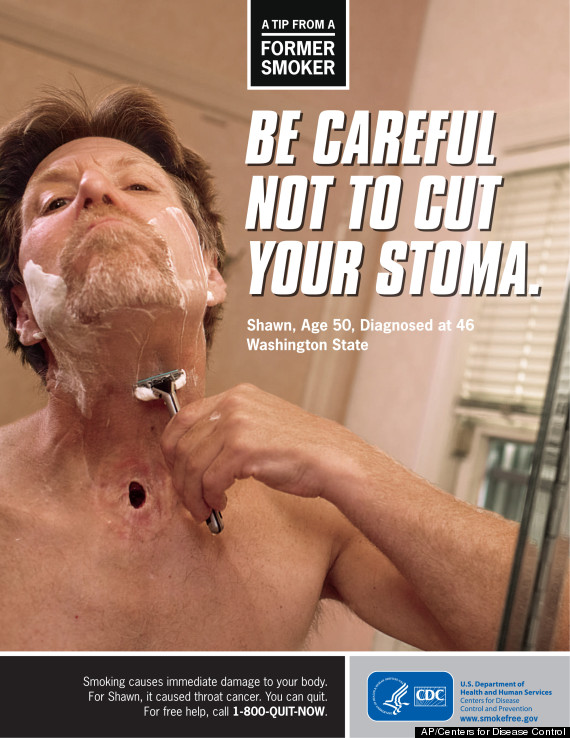 You know what would really freak the kids out?
This picture, and Rule 34. Image from HuffPo.
It has been long enough since my last cigarette (14 months ago) that I can confidently call myself a
non-smoker.
But I smoked for almost 20 years. And you know what
didn't
make me quit? Threats. Taunts. Finger-wagging. None of that stuff works on a smoker, it just makes you more defiant. It's not like smokers are in the dark about the negative health consequence of the habit. They know. But those consequences seem somehow off in a
possible
but not
certain
future. After all, everybody knows somebody who smoked from the age of 14, and died sometime in their nineties, right?
As a current non-smoker--one who is very happy he quit, and wonders why he waited so long to do it--I am rather indifferent to this current campaign. It won't make many current smokers quit. $5 per pack would have done that, were it that easy. But it might make cigarette smoking a bit less cool to the kids who haven't started yet. Or maybe not, who knows? Kids love gory movies, and kids think they're indestructible. If I could rationalize that health consequences were a ways off in my
forties,
certainly to kids it seems like a hundred years away. So, I don't know.
[Excerpt]
CDC Anti-Smoking Ad Campaign Set To Launch
In a graphic new ad campaign announced Thursday, the government is trying to shock smokers into quitting with the sometimes-gruesome stories of people damaged by tobacco products.
The new effort confronts a hard truth: Despite increased tobacco taxes and bans in many public places, the adult smoking rate hasn't really budged since 2003. . .
Read more at: Huffington Post