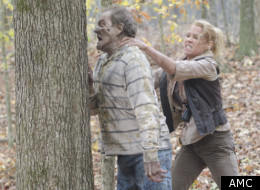 Andrea kicks ass! From source, HuffPo
Now that I'm a rabid fan of AMC's
The Walking Dead
and HBO's
True Blood
, I get to experience the joy of fantastic, quality television, and the frustration of "mid-season finales" and tragically short seasons.
The Walking Dead
just wrapped its second season, and weighs in at a
total
of 19 episodes. There are more episodes than that in one full-length network season. I know, I know, quality over quanity.
To read internet fan message boards,
quality
is in short supply on
TWD.
They whine and complain endlessly about every little thing, from casting, to writing, to acting. It reminds me very much of
Star Trek's
sequels,
Voyager
and
Enterprise.
Fans watched every single episode, obsessed over every single detail, but hated everything about them. It's counter-intuitive.
The truth is, the second season did have a weak spot. One was the several-episodes-long
"what happened to Sophia?"
story arc. Half of the season was taken up with it, and--though it had a satisfying resolution--it felt like it was going nowhere. It seems like if you have a short number of episodes, you probably ought not drag out anything. And that would pretty much be my only complaint;* that some story lines traveled a little too slowly. Otherwise, I thoroughly enjoyed the show.
Tasty. Also from Huffington Post
One of the fans' main complaints is that there's
too much talking, not enough zombies.
This is a "be careful what you wish for" complaint. On the episodes that
did
feature tons of zombies, the adrenaline was pumping, the action was
sick,
and I was on the edge of my seat. But you can't make that the whole show! If you don't know who the people are, what they're about, what their interpersonal relationships
are,
you don't care about them when they
die.*
Another complaint will be how this or that character reacted to a situation, or maybe someone acting out of character, or something someone said (they
hate
Lori, the leader's wife). And I say,
This is a zombie apocalypse!
The fact that they're not catatonic in a corner, wetting themselves already makes it unrealistic.
Anyway, after a semi-draggy first half (still chock full of highlights), the second half of season two was pretty much fantastic, all the time. And the fact that they're willing to kill off characters that you don't expect is pretty thrilling. On the afore-mentioned
Star Trek,
you could know 99% of the time who would and wouldn't die. Not on
The Walking Dead.
So, the stakes are always high.
*SPOILER*
And here, I have to mention Jimmy. Jimmy is a teenager apparently, and one of the regular characters in residence of
TWD's
second-season farm house. I say apparently, because when he died in the final episode? I had no--still have no--memory of him whatsoever. So, let me amend my "no other complaints" statement. There were some background characters who got very little development.
[Excerpt]
'The Walking Dead' Ratings: Season 2 Finale Shatters Records
"The Walking Dead" closed its Season 2 with lots of blood, guts, zombies and big ratings. The Season 2 finale (9 p.m. ET on AMC) brought in 9 million viewers. According to the network, "The Walking Dead" is the No. 1 drama series in basic cable history with men 18-34. "The Walking Dead's" Season 2 finale grew more than 50 percent in total viewers compared to Season 1's finale. . .
Read more at: Huffington Post