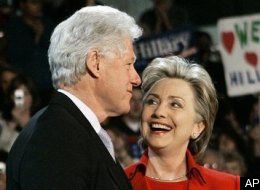 Photo from source, Huffington Post
Whoa! Remember when there was a Clinton Legal Defense Fund, and the Clintons were nearly broke? Well, we can stop feeling sorry for them now. No wonder Hillary was able to loan her campaign $5 million!
[Excerpt]
Sen. Hillary Clinton's campaign has released her 2000-2006 joint tax returns, showing $109.2 million in income over the last seven years.

In 2000, when the Clintons last made their returns public, they reported an adjusted gross income of $416,039. Since then, Bill Clinton alone has made $82 million from just his speech income ($51.85 million) and payments (totaling $29.6 million) from his two books -- "My Life " and "Giving. . ."