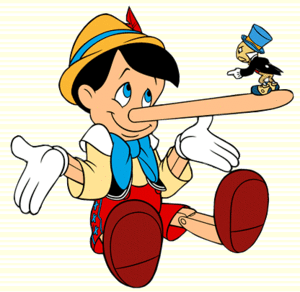 Image from Silver Bear Cafe
Excuse me for cribbing my personal hero,
Al Franken's book title
for my headline, but it's fitting for this post. "Liar" is a big word, right up with the "C" word for words you don't just bandy about. But our squeamishness with using it has gotten so bad, we don't even use it when it fits.
All politicians lie. From little ones, "I'm staying in the race to the finish!" to weird ones "I was dodging sniper fire!" to cover-your-ass ones, "I'm stepping down to spend more time with my family," all of them lie. The little ones and CYA ones, we generally just shrug and let them get away with it. Even Hillary's sniper fire lie--though still perplexing--isn't cause for her to slink off into retirement.


But what about the BIG ones? The really big ones, where you trash the Constitution and send people to die? Why do the powers that be keep getting away with those? And why do so few call them what they are: LIARS?
[Excerpt]
Remember: They Are Liars
By William Rivers Pitt, truthout Columnist
George W. Bush, Dick Cheney, Donald Rumsfeld, Paul Wolfowitz, Condoleezza Rice, along with a slew of administration underlings and a revolving-door cavalcade of brass hats from the Pentagon, have been making claims regarding Iraq for many years now.

They claimed Iraq was in possession of 26,000 liters of anthrax, "enough to kill several million people," according to a page on the White House web site titled
Disarm Saddam Hussein
.

They lied. . .
Read what else they lied about at: TruthOut