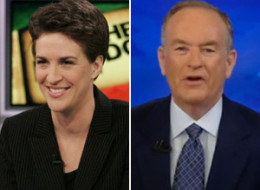 Image from source, Huffington Post
Lots of interesting bits of trivia in this piece. Guess which one is my favorite.
[Excerpt]
Rachel Maddow: Bill O'Reilly A 'Race-Baiting F**k,' CNN Wanted Olbermann: NYMag
Rachel Maddow called Bill O'Reilly a "race-baiting f*ck," CNN tried to hire Keith Olbermann and Chris Matthews wanted Phil Donahue out of MSNBC.
Those are but three of the juicy revelations in Gabriel Sherman's must-read New York magazine cover story this week about CNN and MSNBC, appropriately titled, "Chasing Fox. . ."
Read more at: Huffington Post