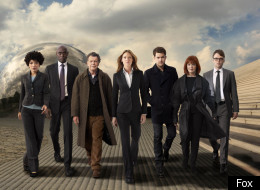 Image from Huffington Post.
If your favorite show was going to be given half a season next year, and then cancelled, you'd probably be bummed out. But we're talking about
Fringe
here, the wonderfully novel sci-fi series that has lived in perpetual cancellation danger. That it received a
fourth
season was something of a surprise, so
any
fifth season--13 episodes though it may be--is
fantastic
news! And let's face it, some of the best TV series currently running have seasons that long or even shorter. If the show had transferred to Showtime or AMC, it would count as a full season! Anyway, after many heart rending premature cancellations of favorite shows by FOX, I'm sending out a huge
thank you
for this one!
[Excerpt]
'Fringe' Renewed For 13-Episode Fifth And Final Season On Fox
"Fringe" fans, consider yourselves lucky: Fox's trippy sci-fi drama has been renewed for a 13-episode fifth and final season. . .
Read more at: Huffington Post