Image from Babble.
Back in 2003, Natalie Maines of the country band, The Dixie Chicks, said this:
"Just so you know, we're on the good side with y'all. We do not want this war, this violence, and we're ashamed that the President of the United States is from Texas."
For that rather mild insult, Right-Wing World wobbled on its axis, and the Chicks were pilloried. Their albums were destroyed, venues cancelled. Certainly, the reaction was more than just a little bit overblown. Ostensibly, this was because we were a nation at
war,
and they'd insulted a war president! Or something.
Flash-forward to 2012. Ted Nugent, a rock music has-been, said this: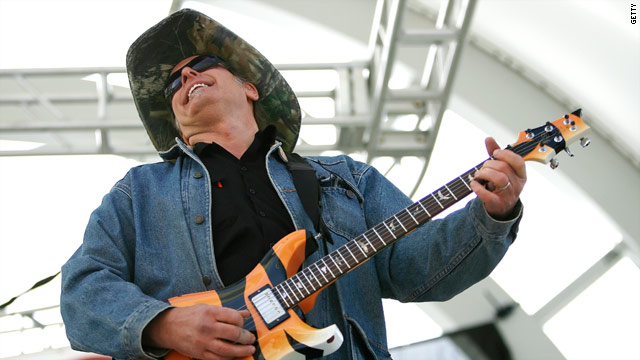 This is a right-wing hero. Image from CNN.
"If Barack Obama becomes the president in November again, I will either be dead or in jail by this time next year," Nugent said, according to a video posted on YouTube by the NRA. "If you can't go home and get everybody in your lives to clean house in this vile, evil, America-hating administration, I don't even know what you're made out of."
That's just
some
of what he said, and it's caused the Secret Service to stop hiring hookers and look into the Nuge's statements. But this obviously batshit crazy D-lister continues to be a right-wing hero. Are we not still a nation at war? Can the Dixie Chicks be forgiven now?
[Excerpt]
Ted Nugent to be interviewed by Secret Service
Ted Nugent, the rocker whose comments about President Barack Obama have come under scrutiny, will be interviewed by agents with the Secret Service, a U.S. official said Wednesday. The interview, scheduled for Thursday, comes amid outcry over comments Nugent made at the annual meeting of the National Rifle Association, which took place in St. Louis this past weekend. . .
Read more at: CNN