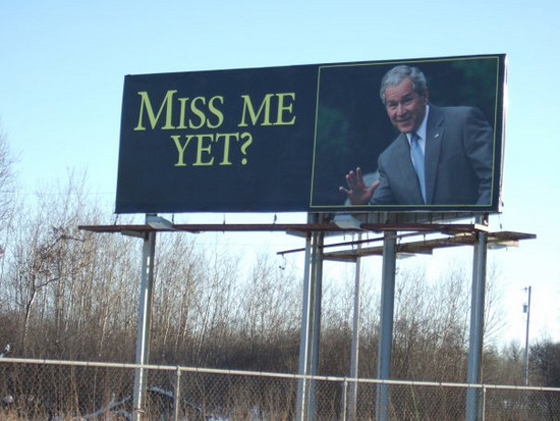 No. Not in a gazillion years. Image from Huffington Post.
Okay, Captain Comb-Over, what kind of scale are you running that on? If George W. Bush is "fantastic," how many ticks up from
"miserable"
is that? Is there a Marcus Bachmann "fabulous" a couple of notches up? Because tell you what Marco!. . . .
Rubio!
Those ridiculous
"Miss Me Yet?"
Bush posters just remind people how
bad
he was.
[Excerpt]
Rubio: George W. Bush 'Did a Fantastic Job as President'

Republican Florida Sen. Marco Rubio on Sunday refused to explain how a potential Romney administration would be different from George W. Bush's administration, but insisted that the last Republican president "did a fantastic job" and his brother, former Gov. Jeb Bush (R-FL), would be a "fantastic vice president. . ."
Read more at: Crooks & Liars