Squee! I will admit with no shame that I'm an unabashed, unrepentant Stephen King fan. I like Dean Koontz too, though I prefer King's subtle liberal politics over Koontz's slightly more obvious conservative allusions. And I don't give a flying fig that "serious readers" consider this type of author to be substandard, or somehow lacking. I have ravenously gobbled up almost every King and Koontz book released in the last 25 years or so (except
The Dark Tower
series, which I seriously don't get).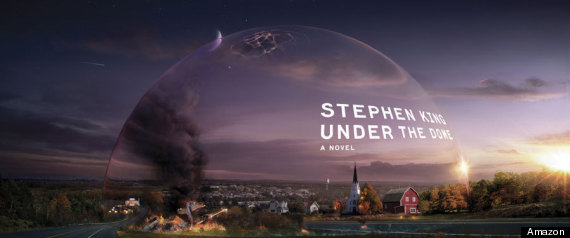 So, when I
really
enjoy a particular book, it's always a thrill to see it optioned as a movie or miniseries. The actual results are more scattershot. For every good adaptation, there are several bad ones (sometimes even with the authors' input). When it comes to King, the best live action adaptations (in my opinion) are
Misery,
the miniseries
The Stand
,
Pet Sematary
and
Carrie.
There have been other good ones too (
Creepshow, Stand By Me
), but more often than not (
Maximum Overdrive, Creepshow 2,
the miniseries
The Shining
) they kind of stink on ice. So, I have high hopes for
Under the Dome,
a ridiculously thick page-turner I read in a frenzy. But my optimism is guarded with experience.
Under the Dome
is a story about a small town that suddenly finds itself cut off from society, with a mysterious--seemingly impenetrable--barrier put around it. The aftermath of the event, and the efforts to thwart it take up hundreds and hundreds of pages. But I didn't care. It was an enthralling book. Can a broadcast television adaptation do it justice? I'll be watching to find out.
[Excerpt]
'Under The Dome': CBS Announces Premiere Date For Stephen King Drama, 'Unforgettable,' 'Big Brother'
Stephen King and Steven Spielberg's adaptation of "Under the Dome" will premiere on CBS at 10 p.m. on Monday, June 24, the network announced Saturday. At the network's presentation for reporters at the Television Critics Association Winter Press Tour, CBS Entertainment President Nina Tassler expressed enthusiasm for the concept, hoping that it will become a "big summer event" for the number one broadcast network. . .
Read more at: Huffington Post