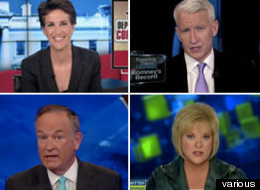 Image from HuffPo
I'm frankly relieved that FOX "News" is starting to take a ratings hit. I knew that some conservatives would cling to FOX like a blankie after the "surprise" losses they suffered in November. But it was so counter-intuitive, seeing as how FOX had been spinning a web of lies and false hope for months, hell,
years.
It's not like their agenda didn't come before facts all along. Still, they managed to construct a false narrative that fooled even their "experts" like Karl Rove and Bill O'Reilly, even Mitt Romney himself. So,
why
would even FOX fans feel motivated to watch the channel, after having been hoodwinked? The curtain was pulled back, and the great and powerful OZ exposed (how fitting that Rupert Murdoch is an Aussie!). So, it is comforting that at least
some
of them have seen the light.
[Excerpt]
Fox News Ratings Hit 12-Year Demo Lows In January Cable News Figures
At the end of each month, cable news ratings are released to the public. And, like clockwork, Fox News dominates the top 13 or so programs, far outstripping its competitors. . .
Read more at: Huffington Post