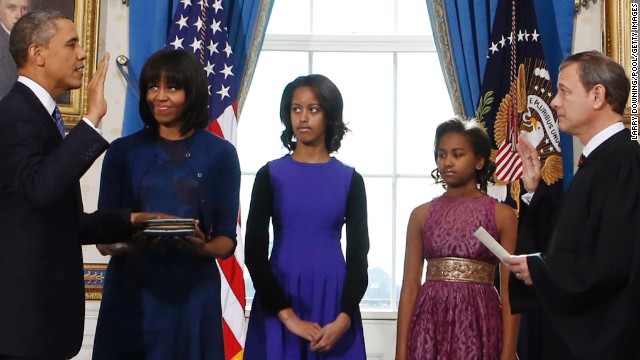 Image from source, CNN
POTUS has a bit more grey in his hair, and FLOTUS has bangs. Those are just two of the things that have changed since the last time Barack Obama took the presidential oath. This time there was no flub between Obama and Chief Justice Roberts, which is nice. It remains to be seen if the Republicans are having a secret meeting to plan to obstruct everything, like they did last time. Although at this point, it kinda goes without saying I guess. Here's to four more years. Good luck, Mr. President. You'll need some. It's not going to be easy.
[Excerpt]
Obama sworn in to second term, faces new challenges
With the official business of the 57th inauguration out of the way, Washington began preparing Sunday for a day of revelry -- and for the challenges facing President Barack Obama over the next four years. . .
Read more at: CNN