If it were $180 iPads, $180 HDTVs, $180 diamond tennis bracelets. . .well, it would
still
be sad, but it would be understandable. But $180
tennis shoes?
Really? I don't care if they're Air Jordans, they're
sneakers.
And not even particularly attractive ones. Do you know how many presents you can get somebody for $180?
SHOES???
And as a side note, I think the police are getting
awfully
pepper-spray happy, don't you? Pepper-spray was introduced to reduce the incidence of lethal force. They're using it now as routine crowd control.
[Excerpt]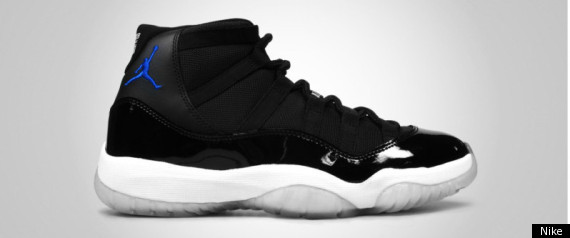 Ugly shoe sparks riots. Image from source, Huffington Post
Seattle Police Pepper Spray Air Jordan Shoppers
Scuffles broke out and police were brought in to quell unrest that nearly turned into riots across the nation Friday following the release of Nike's new Air Jordan basketball shoes – a retro model of one of the most popular Air Jordans ever made. . .
Read more at: Huffington Post