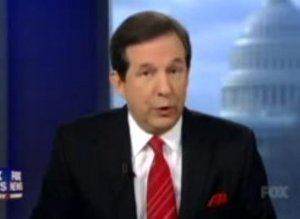 Want some cheese with that whine?
Image from source, Huffington Post
Awwwww!!! Poor little Chris Wallace, the vaguely creepy host of
FOX "News" Sunday,
was shut out by the Obama Administration when it tried to get Hillary Clinton or Bob Gates to talk about Libya on the program. Frankly, I wonder why
any
prominent Democrats would
ever
appear on the frightfully skewed channel. Every program--even their allegedly "hard news" programs--is infused with the primary goal of making liberals look bad. Why help them out?
Oh, and the whining Wallace also stated that his program regularly beats two out of the three other Sunday morning political programs. I'd very much like to see the data that backs up this dubious claim. I suppose if you add up all the reairings of
F"N"S,
and put it against the single airing of ABC's
This Week
, and CNN's
State of the Union,
he
might
be right. But the truth is, Wallace's show regularly trails
CBS'
Face the Nation,
NBC's
Meet the Press,
as well as
This Week.
[Excerpt]
Fox News' Chris Wallace Slams White House For Blocking Access To Clinton, Gates
Secretary Of State Hillary Clinton and Secretary of Defense Robert Gates
made the talk show rounds
on Sunday, appearing on ABC, CBS and NBC to discuss Libya. However, they did not go on Fox News--something which made Chris Wallace, host of "Fox News Sunday," very unhappy--and he let his viewers know it. . .
Read more at: Huffington Post